Knowledge Assistant is an automated personal assistant that can tell you important information about your business's local profiles, and let you make changes to the information on your local profiles right from your smartphone.
To begin, make sure you have registered for Knowledge Assistant and saved the phone number as a contact. After you're set up. simply send a text message or voice command to the Knowledge Assistant to get started. The Knowledge Assistant can understand many commands - whether you send a text saying "Reviews" or ask a full sentence like "Show me my new reviews", the Knowledge Assistant can deliver. 
Change or update your hours:
You can update your regular business hours or add special holiday hours by texting "update my hours" to Knowledge Assistant.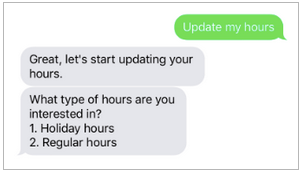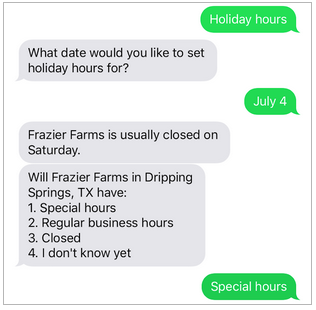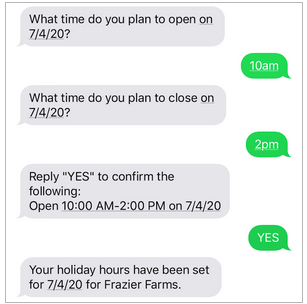 The Knowledge Assistant will ask you what type of changes you would like to make and will walk you through the steps.
Read and respond to reviews:
You have the ability to read and respond to reviews for your business. You can choose to read all of your reviews, read new reviews that are awaiting your response, or ask the Knowledge Assistant to tell you your average rating. You can also respond to reviews directly from your phone.