Here is how to Instagram to your SpaceCraft website:
1. Select Settings (gear icon) in the Dashboard navigation bar.
2. Select Apps under the Settings header.
3. Select the green Add Connection button on the lefthand side.
4. Select the Social category tab.
5. Select the Instagram option and authenticate the connection by logging into your Instagram account, you will then be taken back to your SpaceCraft dashboard.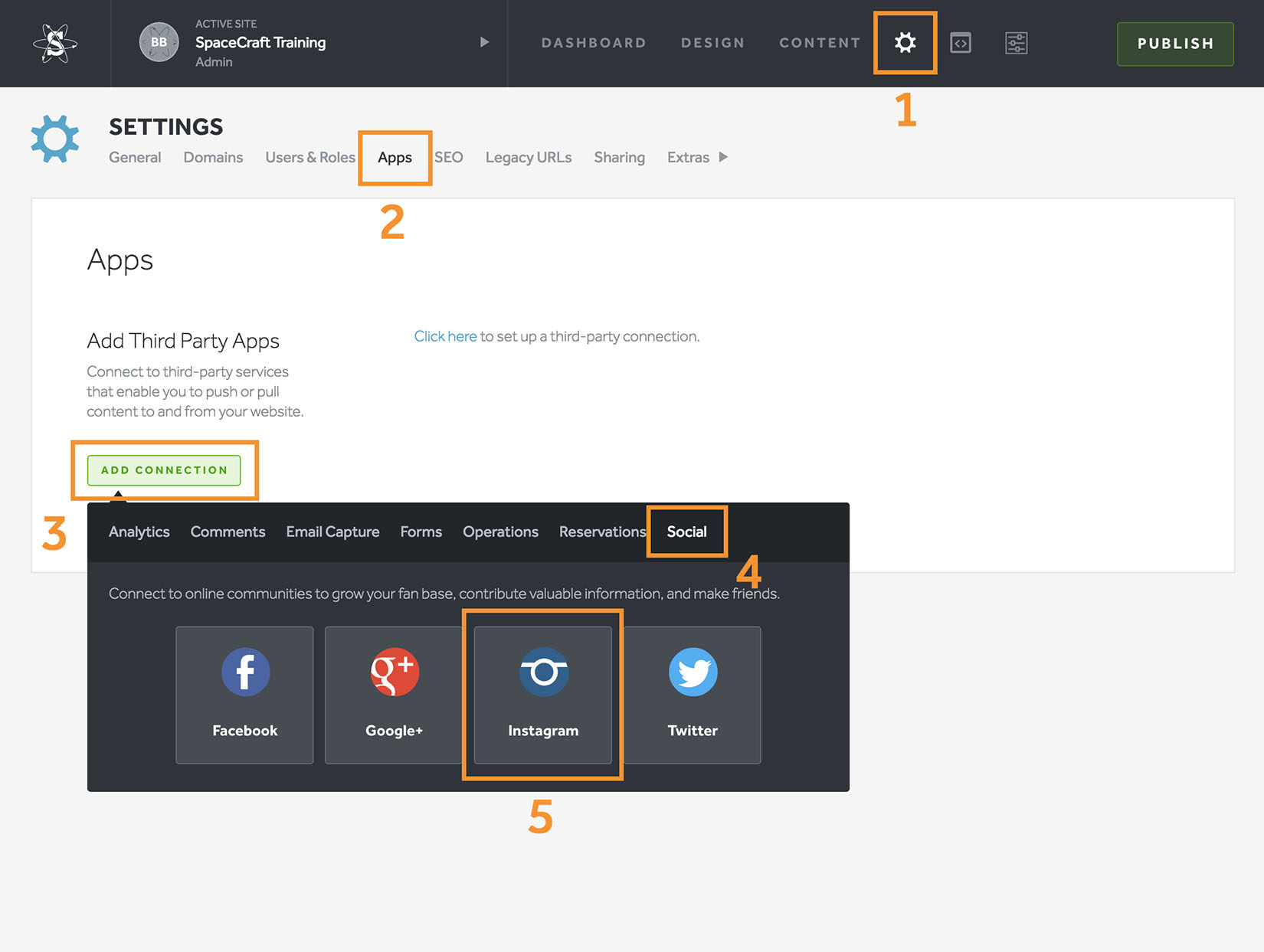 If you are already logged in to your Instagram account from the device you're using, it will automatically connect. Otherwise, you will be redirected to a screen to login to your Instagram account. Once you've done this, you'll be taken back to your SpaceCraft tool.
6. Now, to stream your most recent Instagram posts into your website, navigate into Content from your Dashboard navigation bar. From here, you have three options:
A) One option is to add a Social block to one of your pages. Navigate to your page from the Content tool in your Dashboard, then choose the green (+) button between blocks. You will see an option for Social, select it. Choose the Instagram account you want to feature from the Feed dropdown, give it a title, and choose how many posts you'd like to show up on the page.
B) Another option is to choose a page on your SpaceCraft website where you'd like to feature only your most recent Instagram post; to do this, add a Featured content block to that page, then choose your Instagram account from the dropdown menu.
C) Lastly, you can add your Instagram feed to your Global sidebar. Just add a Social block by using the green + button between the blocks and select your Instagram feed so users see your posts on every page across your site. You can also add a Featured content block to your sidebar so that you can feature only your latest photo.
Note: It may take an hour or so for Instagram posts to initially populate anywhere on your site.