To set up IntenseDebate comments on your SpaceCraft blog:
1. First head over to intensedebate.com
2. Select Sign Up.
3. Fill out the form, making sure to choose the "I want to install IntenseDebate on my blog or website" option at the bottom.
4. In a separate tab or browser window, keeping the IntenseDebate page open, check your email. IntenseDebate should have sent you a verification email. (If not, go back to the IntenseDebate page and click the Resend link.) Open the email, and select the provided link.
5. Select Continue with your installation link.
6. In the blog or website URL field, type the URL of your SpaceCraft website (i.e. www.example.com, not www.example.com/blog).
7. The next page shows the installation options for various platforms. Instead of clicking anything here, click the My Account tab at the top of the page.
8. Hover over the Sites tab, and click on your SpaceCraft website URL.
9. In the menu on the left-hand side of the page, under Settings, select Account
10. Select the blue View Site Key link.
11. On the page that appears, double-click to highlight the alphanumeric code for "IntenseDebate site acct," (not the site key or site ID) then copy it (CTRL+C).
12. Navigate back to your Dashboard and select Settings (gear icon) in the navigation bar. Select Apps under the Settings header.

13. Choose the Add Third Party App green button and select Comments.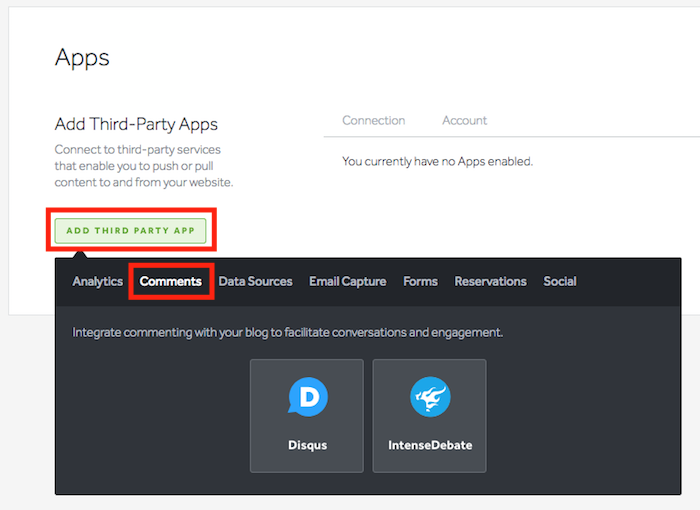 14. Select the green IntenseDebate tile and paste (CTRL+V) the Account ID into the field and select Save.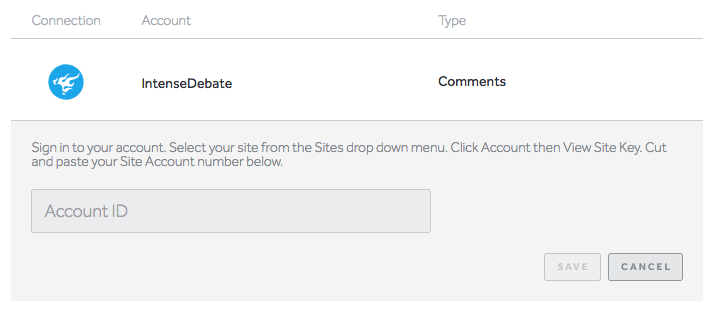 IntenseDebate commenting is now live on your SpaceCraft blog!