The fonts you choose on your site greatly affect the feel of your website and help brand you as a business. Change and view the selected fonts on your site within the Design tool:
1. Select the Design tool in the gray navigation bar. Under the Sitewide tab on the right-hand side select Styles.

2. Select Text.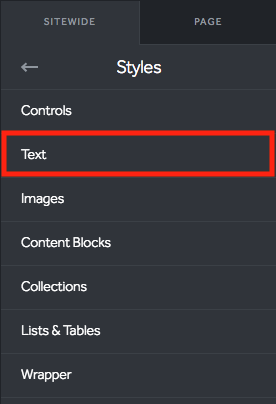 3. For Page Titles/Page Subtitles, Content Titles, and Content (paragraph text), you can select different fonts and colors by using the font drop-down areas. You may adjust the size of your text with the Size slider.

4. Select Save and then Publish to take your changes live!