You can customize the background for specific pages on your website by following these steps:
1. Select the Design tool in the gray navigation bar, or the blue Design this page button on your Content page to enter the Design tool. Navigate to the page you want to change the background on.
2. Select the Page tab in the right-hand menu of the Design panel and select the Background button at the bottom of the page information.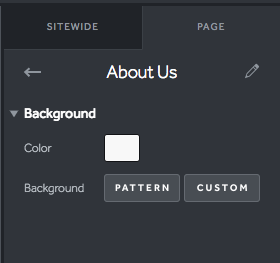 3. Choose a Pattern or Custom background (for Custom, select an image from your image library or drag an image).
4. Select Save and Publish to take your changes live!