Our SEO tools let you add a Title Tag, Description and other settings without using any advanced coding. To add SEO metadata for each page, follow the steps below:
1. Select the Content tool in the gray navigation bar.
2. Click on the Page you want to change SEO details on.
3. On the right-hand sidebar, select the SEO & Sharing drop-down. This will expand the sidebar.
Adding Metadata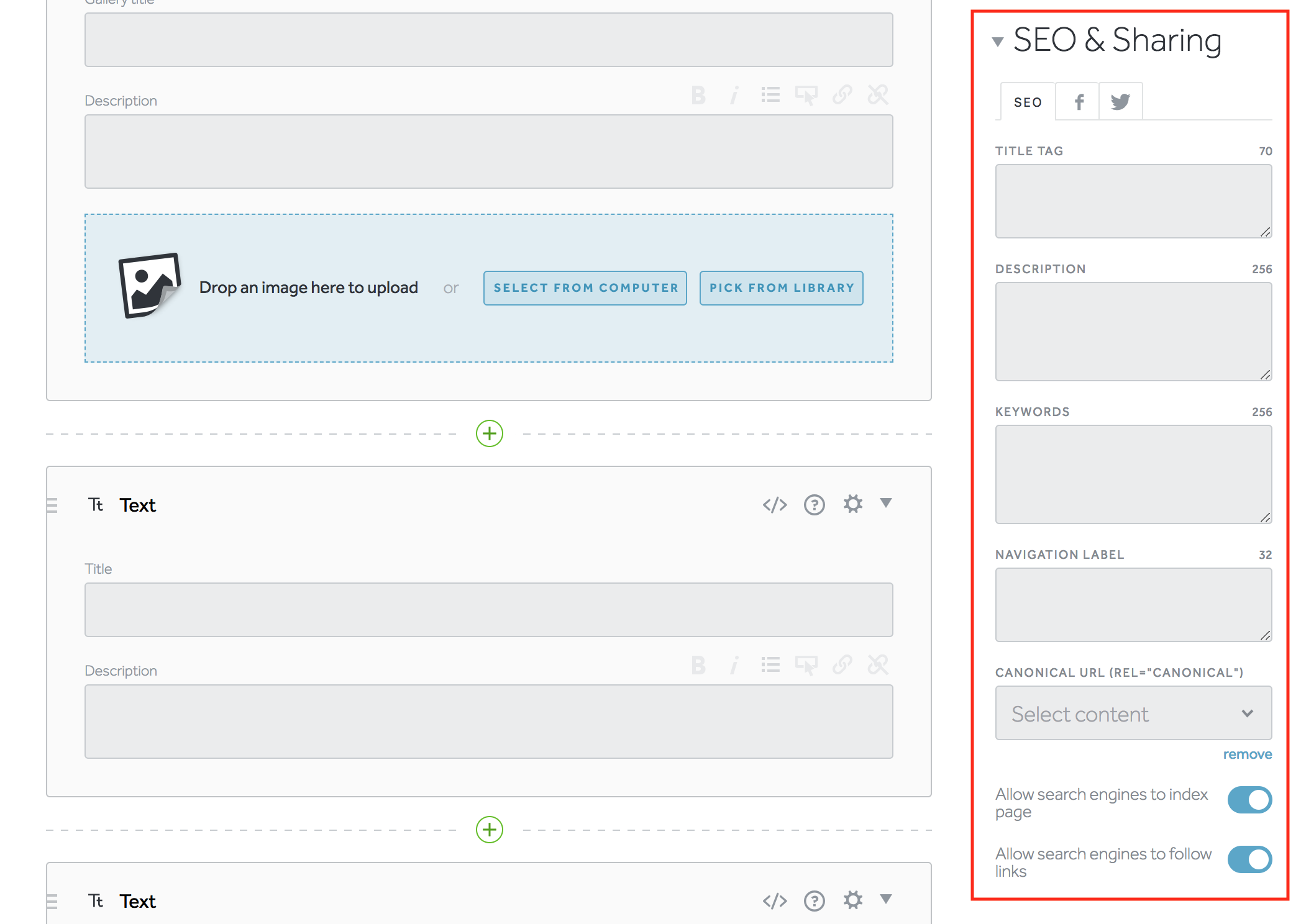 Title Tag: This should include a brief summary of what the page is about. Your Meta Title is the blue clickable text that appears in search results, so you will want something attention-grabbing.
Description: The Meta Description is where you will want to go into a little more detail about the content of your page or your website as a whole. In search engine results, this is the black text that shows up under the Meta Title.
Keywords: In this section, you can list the keywords and search terms that are relevant to the page. Due to recent upgrades in Google's algorithms, meta keywords no longer play a significant part in your site's search performance.
Navigation Label will allow you to set a different title/label for this page, seen in the navigation menu on your site.
Canonical URL: Setting a Canonical Tag will help you to prevent duplicate content from being indexed. By clicking inside the box labeled

Select Content

, you will see a dropdown that lists all of the pages on your site. Ideally, you will want to select the page that you are currently viewing.
The first toggle option will allow search engines to index the page and display it in search results. If you do not want users to find your page via search engines (for example, a "Thank You" page), then toggle this off.
The second toggle option will allow search engines to follow links and index in accordance with the first option.

Publishing your changes
To finalize your SEO changes, click the Publish button in the top-right corner of the screen.
Note: It can take anywhere from 24 hours to several weeks for your SEO changes to become visible in search engines. When you make SEO changes, you will want to submit your sitemap to Google and Bing to ensure that the search engines crawl your newly-optimized sitemap immediately.