Add a divider in between content blocks to give your webpage more flaire and organization. To add a divider:
1. Click on the Content tool in the gray navigation bar.
2. Select the page you'd like to add the divider to, and click into it by clicking on the page title.
3. Scroll to the area between the content blocks you'd like to add your divider.
4. Select the green (+) sign in between the content blocks, and click on the Divider tile to add it.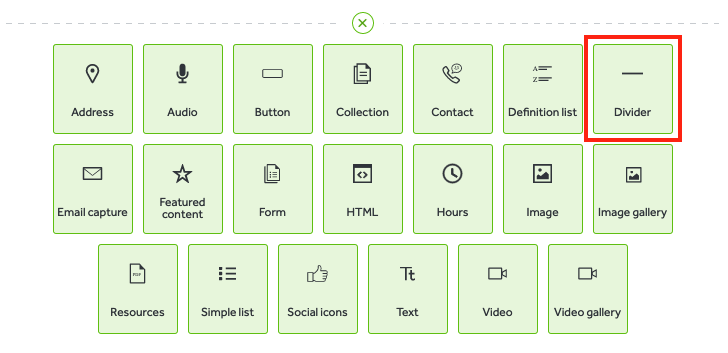 5. If you want to have text on your divider, add in the text under the Label field.

6. Select the blue "design this page" button in the top right corner of the page to go to the Design panel and design your divider.
7. On the right-hand side of the website preview, under page, select the Divider name to open up the design options.

Here, you can change the stroke (thickness) of the line, the design of the line and text, capitalization, the size of teh line and text, as well as the color.
8. Select the Save button and then the Publish button on the top right corner of the page to take your changes live!