You can add many footer elements to your website's footer, including your business' contact information or social icons. Additionally, you can add some custom footer elements including an image or third-party widgets such as a review or chat software.
To access your footer's content, navigate to the Content panel on your dashboard and select Footer under Global Content.

Rearrange the order/placement of footer elements
The order of the content on the footer is determined by the order of the content blocks within the footer's Content panel. If you would like to change the position of a footer element, you can do so by navigating back to the Content panel by clicking the Pencil icon in the top-right corner and navigate to the content block containing the element you would like to move. Then, drag the desired element by clicking and holding the three lines on the top-left corner of the corresponding content block, as seen below:

In addition, you can also change the layout of the contents of your footer by adjusting the number of columns on the right sidebar in the Design panel under the tab labeled Layout, as shown below.

Above: A footer with only one column.
Below: A footer with four columns.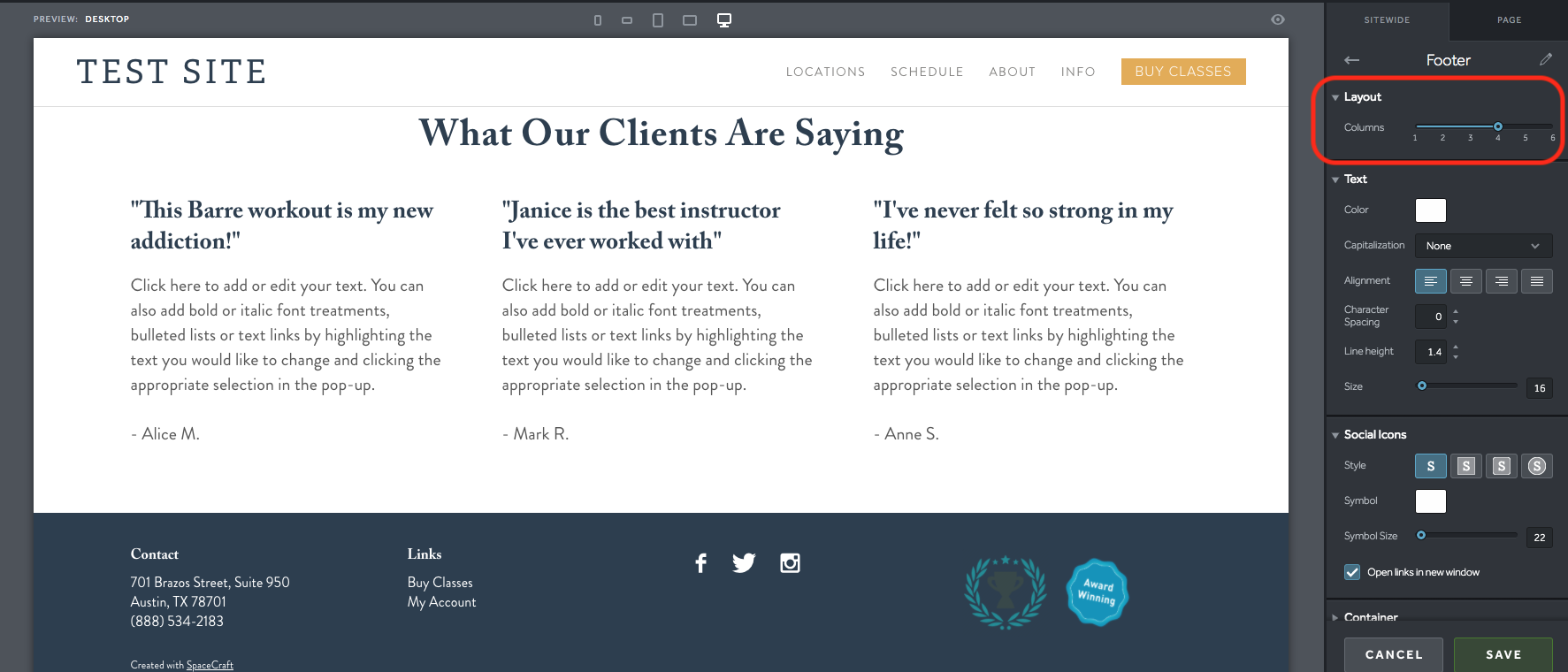 Adding multiple elements to your footer
You can add additional elements to your footer. Depending on how you want those images to display, you should follow one of the two methods below:
Group icons together

To bunch all of your footer elements together, you can work within the same HTML block. Simply repeat steps 3-5 with each new image. Make sure you create a new line of text for each element in the block.

Keep icons separate

If you want to place your footer elements on different sections of the footer, then you will want to create a separate content block for each. Repeat steps 2-5, then drag the blocks to the desired order under the Content panel.
Changing the size of your footer elements in HTML blocks
If you have added any images or third-party widgets in your footer using an HTML block, you can change that by manually changing the height and width in the placeholder text in the HTML block.